Parallels Between Sports and Business
There are many parallels between sports and business. Business needs to excel at operations while also assuring its future by developing growth strategies. Likewise, NFL teams constantly practice so that each play is executed well. However, teams also need to develop a strategy that gives them an edge. Bill Walsh was one the NFL's best at balancing the team execution with innovative strategic thinking. Here is an anecdote demonstrating Walsh's systematic methodology.
West Coast Offense
Bill Walsh was the offensive coordinator for the Cincinnati Bengals in the 1970s.  During a game against the Raiders, he called a play that required the tight end, Bob Trumpy, to line up on the left side.  When Trumpy lined up on the right side, Cincinnati's quarterback redirected him to the left side before calling the cadence.  While Trumpy repositioned, something happened that caught Bill Walsh's attention.  As Trumpy repositioned from one side to the other, five Raider defensive players followed him and, due to this shift, ran into each other.  In Bill Walsh's autobiography, The Score Takes Care of Itself: My Philosophy of Leadership, he described the situation as "all hell broke loose" on the defensive side.  This unique observation made Walsh realize that he could use this as an advantage.  He could use pre-snap motion on purpose to disrupt the offense.  This observation and strategic shift was the start of Bill Walsh's celebrated innovation called the West Coast Offense.
Three-Step Framework
Bill Walsh's success was based on a three-step framework:
1-develop a plan
2-look for an edge by seeing what others miss
3-create a system to consistently recreate the results
The same steps that made Bill Walsh one of the most successful innovators in the NFL can help improve business results.
Shifting from Survival to Growth
Businesses must focus on operational excellence to profitably deliver an offering to their customers. By focusing on operational excellence, the results are lower costs, faster response times and increased capacity. This is the activity that "keeps the lights on." Of course, most businesses strive to accomplish more than just "keeping the lights on." Businesses have long term goals that typically include increasing market share, revenue and margin. Despite these goals, most businesses focus on operational excellence or near term goals as opposed to their growth goals. According to a McKinsey survey of 1,300 executives, 16% of their time is focused on long term growth versus near term operations. Another study from Harvard Business Review reflects this reality reporting that only 6% of businesses meet their growth goals consistently.
Beating the Odds Against Growth
One example of a business that beat the odds against consistent growth is a Midwest manufacturer of food service equipment.  This Midwest manufacturer had won the best in class award from an industry magazine for 17 straight years.  They had clearly focused on operational excellence and were being recognized for it.  The Midwest manufacturer was shocked in 2016, when one of their new competitors won the best in class award.  The competitor won that award again in 2017 and 2018.  Market share for the Midwest manufacturer started to erode in 2018.  This manufacturer realized that they had focused exclusively on day to day operations and did not address their strategic growth for years which finally resulted in market share and margin erosion.  In 2019, this manufacturer adopted our Market Powered Growth process to help them adopt an outside-in view of the market and develop an effective growth plan. 
1 – Develop A Plan
Like Bill Walsh's playbook, the first step is to develop an effective plan.  Applying the Market Driven Growth process, this Midwest manufacturer effectively addressed their reduced revenue and margins.  Following the Market Powered Growth process we developed with the client a market hypothesis, aspirational goals and objective targets.  The growth plan was developed to understand the unmet needs of the highest potential target segments.  One example of the Market Powered Growth process output is an analysis of the market unmet needs (See Figure 1).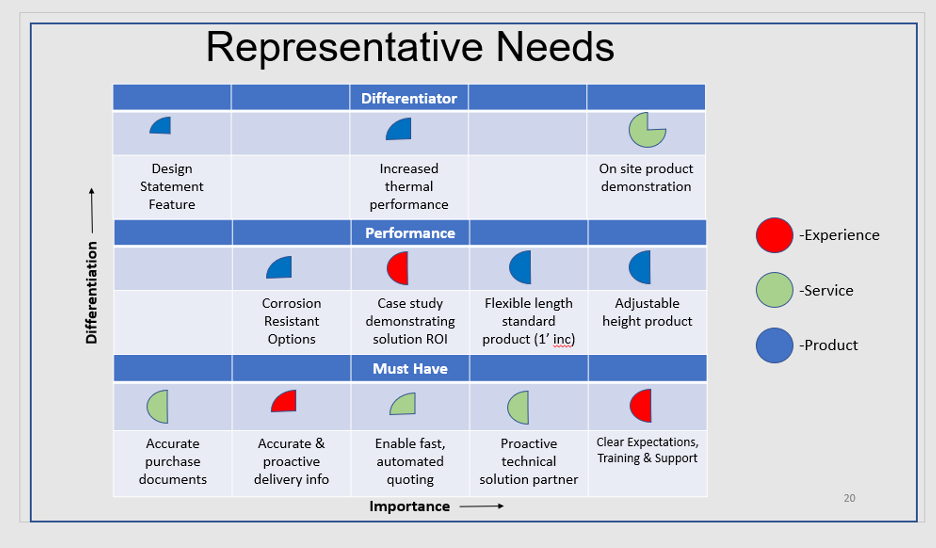 The unmet needs per segment are divided into Must Haves, Performance related and Differentiators.  The unmet needs are also segregated into Experience, Service and Product categories so that each unmet need can be addressed as a solution.  Choosing which unmet needs to address and developing innovative solutions to these unmet needs is a critical part of developing a successful strategy.  
Working collaboratively with the Midwest manufacturer, we set up a cadence of milestones and delivered on each element of the plan which included the clear goals, the results of voice of customer exercises to understand unmet needs, and prioritized potential solutions based upon customer reactions. Senior leadership appreciated the due diligence represented by a business case with predictable milestones and revenue expectations.
2 – Look for an Edge by Seeing What Others Miss
The second part of Bill Walsh's plan is to look for an edge by seeing what others miss.  When Bill Walsh saw that Bob Trumpy lined up incorrectly, he could have focused his team on reinforcing proper positioning.  This is a similar tactic of businesses that focus on operations excellence to the exclusion of strategic growth focus.  While, Walsh likely did work on team positioning, he also leveraged his observed new knowledge about disrupting defensive positioning into a championship winning offensive strategy. Our Market Powered Growth process helped the Midwest manufacturer accomplish something similar by performing a Voice of Customer (VOC) exercise in which they became immersed in the customer's experience and discovered value gaps in their customer's value delivery process.  We discovered that the Consultant Customer segment was relatively immune to pricing pressure.  Also, we discovered that all manufacturers in their industry had ignored the contractor assembly issues that cost their customers a lot of time and money.  These new market insights were the equivalent of Bill Walsh observing the Raiders defense being disrupted by the pre-snap motion.  The resulting business case addressed the unique needs of the consultant community and developed best in class assembly methods that they ended up patenting.  Another example of our Market Powered Growth process is the Strategy On A Page (SOAP) (See Figure 2).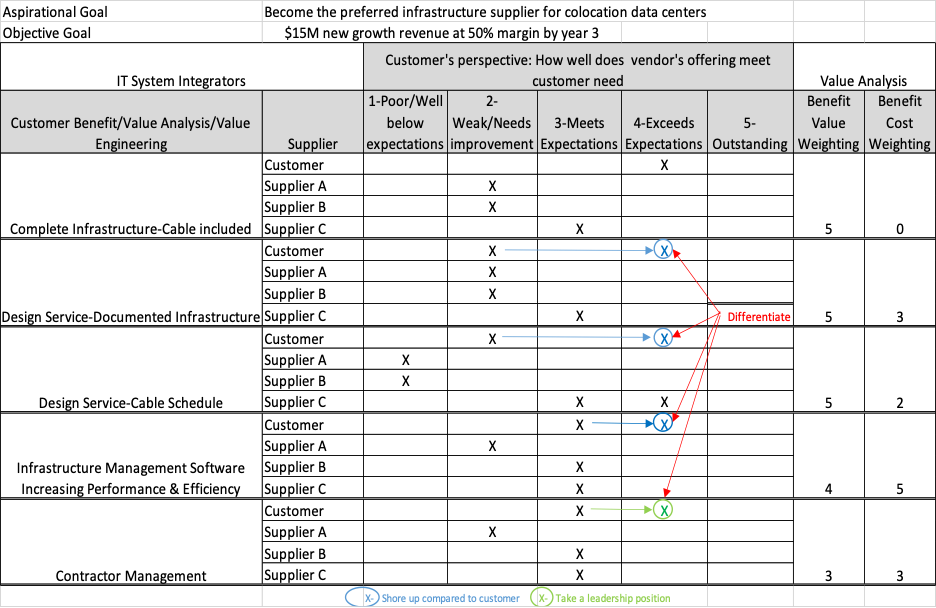 The  consolidated market insights, solutions and competitive position on a single page concisely and credibly revealed what competitors missed.  This is the start of developing your own innovation solutions similar to the West Coast Offense.   The Midwest manufacturer executed on the resulting strategic plan by delivering and validating a series of pilot offerings to the market.  They met their growth goals, recaptured and exceeded their market share and used the increased margin to fund additional growth projects.   According to the Midwest manufacturer:  "The unique Market Powered Growth process led to our paradigm being challenged while developing new, industry leading solutions resulting in new Intellectual Property (IP).  This was the smoothest project with an outside consultant I have been involved with."
3 – Create a System to Consistently Recreate the Results
The third part of Bill Walsh's plan is to create a system that recreates these results so that innovation becomes a cultural norm.   Using our Market Powered Growth methodology as a guide, the Midwest manufacturer integrated a product realization playbook into their new product development process.  Operation excellence and strategic growth plans are now achieved at the Midwest manufacturer as a healthy balance.   New revenue, margin goals and patents are now equally celebrated as are quality improvement and cost reductions.  
Winning With Market Powered Growth Process
Bill Walsh applied his three-step framework to develop the innovative West Coast Offense, resulting in several world championships.  The Midwest manufacturer similarly is now celebrating new, innovative offerings and their return to best in class industry awards. 
Improve your business growth goal achievement with new, differentiable, innovative solutions by learning more about our proven Market Powered Growth process.