Drive top line revenue growth and bottom line profits.
Proven Paths to Success
Agile Executive Program—
To successfully implement Agile and Scrum, the entire organization must understand how to work inside the new process and practices. We speak the language of executives and key stakeholders so that they understand how to adapt to iterative environments. We convince skeptical team members to try Agile. We help you overcome the resistance to change from the board room to the break room.
Agile Readiness Discovery and Validation—
Assess issues across all stakeholders and global demographics to inform recommendations for implementing an agile approach, including tailoring of training and coaching. Measures the level of commitment that participants have to agile techniques with options for both before and after training assessment. These measurements indicate how strongly participants believe in specific practices, their knowledge of the practices, their skills in the practices, and their abilities and willingness to execute these practices.
Conduct A User Story Writing Workshop—
Were you trained on user stories but struggle to turn your own backlog into 'estimable' stories? We guide you while you craft user stories and build a usable product backlog.
Create A Reliable Release Plan—
Release planning is one of the most important and least understood elements of a successful agile implementation. We will teach you how to turn your prioritized backlog and estimated velocity into a solid release plan.
Facilitate Sprint Planning Meetings—
We will coach team members to plan a sprint at the right level of detail. When you adopt Agile or Scrum, the first planning meetings are often difficult, as team members learn new ways to work together. Let us guide your team through the initial meetings. Your meetings will run more smoothly and team members' introduction to Agile and Scrum is positive and profitable.
Facilitate Retrospectives and Reviews—
Agile and Scrum practices mandate retrospectives and reviews. You understand their value, but struggle with them. Did previous retrospectives and reviews turn into "blamestorming" sessions? Have they stopped being effective tools for generating improvement ideas? Whatever the case, we will facilitate reviews and retrospectives. We'll teach the team the proper way to approach these meetings. The team's performance will improve as they gain insights from their retrospectives and reviews.
Hold Effective Daily Scrum Meetings—
New Scrum Masters and teams struggle with the daily stand-up meeting. This meeting often morphs into design sessions or detailed status reports. You cannot become an effective Scrum Master if you don't gain control of the daily meeting. We will coach the Scrum Master as they lead the meeting, and the team will become more efficient as the daily meeting improves.

Help Initiate Organizational Change—
One of the toughest organizational challenges is launching a new process. It is also difficult to continue on a new course when challenges arise. We will help you plan for change so that you have the ability to weather the storms ahead. We will guide leaders to long-term success as they adopt Scrum and Agile.
Agile Productivity Benchmarking—
Independent assessment of productivity for three or more agile projects, with comparisons against external industry measures.
Scaling Scrum, Scaling Success—
Need to know how to scale and how to work with distributed agile teams? Learn how to proactively manage inter-team dependencies, conduct iteration planning, and coordinate work, whether you have two teams or twenty.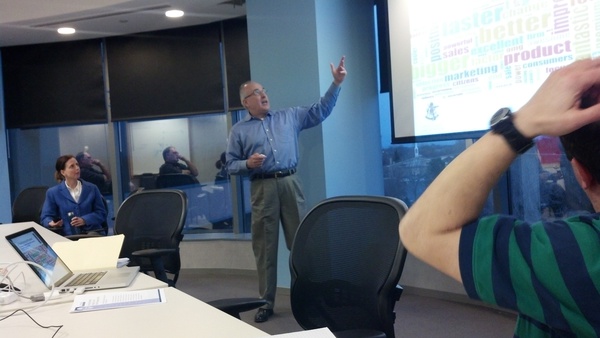 Group Atlantic presenting Agile productivity benchmark data at Agile Professional Learning Network (APLN) hosted by GoGo.